PA Day Camps will run 9-5 and will be $30.00 for registered members or $35.00 for non-registered members. All camps will have a theme. Snacks and lunch will not be provided however there is a vending machine on site.
Weekly camps are offered over the March Break and summer weeks and are a cost of $150.00 for the week or $35.00 a day running from 9:00 am-5:00 pm. Early drop off and late pick up are available for $5.00/half hour. Hot lunches will be delivered at lunch time directly to the gymnastics club at a cost of $7.00/day, please let the staff member know if you would like to order lunch daily at the time of registration.
Mommy and Me drop-in: Wednesday & Thursday from 10:00 am -11:00 am, $6.00/drop in
Tween Drop in (ages 9-14): Monday from 8:00 pm – 9:00 pm, $6.00/ drop in
Teen/Adult Drop ins: Tuesday and Thursday from 8:00 pm-9:30 pm, $12.00/drop in
Saturday Drop-In: crawling to age 12, from 12:00pm-1:00pm, $6.00/drop-in
AMF is due upon first visit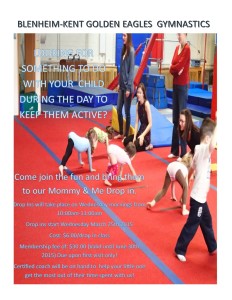 Cancelations
Any gym closures due to inclement weather will be announced on CKSY 94.3 and our website. Make up classes will be offered however no refunds will be offered if you are unable to attend the make up class.
Missed Classes
With regrets there will be NO makeup classes for those children who are absent from any class.
Annual Memberships Fee
Every athlete enrolled at the gymnastics club is required to pay an AMF for every year they are a member running July 1st-June 30th .
Attire
Athletes enrolled in these programs will be required to wear a body suit and must have their hair tied back in order to participate in the class.
All for Kids Chatham Kent is a local government funded organization to help keep local children active. Please click here for further information and application form.
Keep Kids In Program. This is our very own KKIP program. We are the only gymnastics club in Chatham-Kent to offer its own financial assistance program, for those who have exhausted the All for Kids option. If you are in need of help to keep your child in our recreational program please submit a letter to our Board of Directors and drop off in our white box located in the front lobby in an envelope clearly labeled KKIP.  Your brief description should include how long you have been a member, the program you are requesting funding for and the amount you are requesting. Please be aware that this fund is limited and will be disbursed as the Board sees fit.
The gymnastics club makes bank deposits on the 1st and the 15th of each month. If you wish to split your recreational payments up into monthly payments please speak to the Head Coach, Nicole Langstaff to make arrangements.
Are you registering multiple children or for multiple classes?  We offer a 10% discount for your 3rd child's class fees and 10% discount for your child's 2nd or more class fees